Ranking the Films of Sofia Coppola
Sofia Coppola may be the daughter of one of the most acclaimed directors of all time, but she has never struggled to imbue her films with her unique vision. A trademark of Coppola's films is that all of her films deal with the theme of celebrity, whether it be local celebrity, fading celebrity, unsought celebrity, the monotony that goes along with celebrity, or the unattainability of celebrity. Other trademarks of a Sofia Coppola film are dreamlike visuals and awesome soundtracks. This is how I'd rank the films of Sofia Coppola:
5. The Virgin Suicides (1999)
Coppola's first feature film, an adaptation of the novel by Jeffrey Eugenides, is equal parts fascinating and frustrating. It's no spoiler that the film involves suicide, but the reasons for these suicides are never explained, mystifying the small town in which the story is set. Like the audience, the young men that serve as the narrator never find the answers they seek, but I guess that's the point.
4. Marie Antoinette (2006)
Starring Kirsten Dunst as the Queen of France, Marie Antoinette is not ostensibly a "teen film" and yet it might as well be. By essentially not having Dunst's character age past a teenager, Coppola manages to create a sympathetic image of the historical figure. Despite running 22 minutes longer than her next longest film, the film has to appreciated for wonderful costumes and a hilariously anachronistic soundtrack.
3. The Bling Ring (2013)
Based on a Vanity Fair article about a group of fame-hungry teenagers who rob the homes of their favorite celebrities. It's easy to mistake the intentionally vapid characters for a vapid film, but that couldn't be further from what the film actually is. Coppola effortlessly depicts a society in which the lines between fame and notoriety are blurred, without getting preachy. Also Emma Watson is perfect as one of the teenage burglars.
2. Lost in Translation (2003)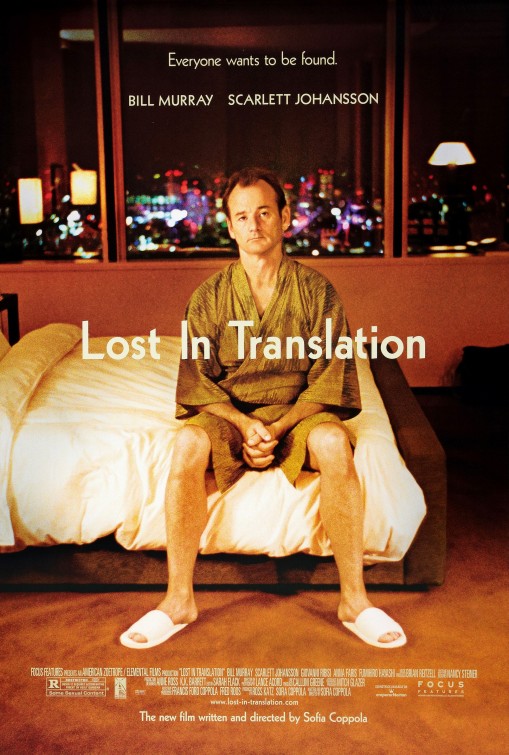 Coppola's most successful film, Lost in Translation, beautifully conveys the feeing of being alone in a city of 13 million people and how meaningful friendship can be. Great performances by Bill Murray and Scarlett Johansson help bring the film from an experiment in tone and atmosphere to a comedic, subtle, and bittersweet poem.
1. Somewhere (2011)
Starring Stephen Dorff as an actor trying to reconnect with his daughter, played by Elle Fanning,
Somewhere
is an excellent film. R
arely do films so expertly depict the experiences of its characters, while at the same time creating such an effective mood which pervades throughout the film. Poignant and sublimely crafted,
Somewhere
is a brilliant film.