Kenneth Branagh's "Murder on the Orient Express" is a Stunning Adaptation of the Agatha Christie Classic: Review
Film Review: Murder on the Orient Express
I first read Agatha Christie's Murder on the Orient Express when I was in the sixth grade. I needed to pick a book for an independent reading assignment for English class and after an arduous forty-five minutes browsing the shelves of Barnes and Noble, I settled on MOTOE, not knowing much about it, aside from that it was a classic. Reading it, I fell in love. The glamorous and exotic location! The murder with no logical solution! The funny little detective! The impossible-for-me-to-pronounce character names! OK, that last one was not one of the reasons I fell in love with the book, but, seriously, there was mabye one character whose name I felt comfortable pronouncing. Anyway, that experience began my minor obsession with all things Agatha Christie. I read more books (Death on the Nile! Death in the Clouds! Evil Under the Sun!), sought out film and TV adaptations (Billy Wilder's The Witness for the Prosecution remains a favorite), and saw The Mousetrap when I was in London. All of this is to say what follows is not an objective review of the new film adaptation of Murder on the Orient Express.
Kenneth Branagh both directed and starred as Hercule Poirot in the new adaptation by Michael Green. The plot remains the same as in the book; the famous Belgian detective boards a train and when a murder is committed while the train is stopped in a snowdrift, he must figure out which one of the passengers is the murderer. The cast is an all-star one. In addition to Branagh as Poirot, Michelle Pfeiffer plays the American widow Mrs. Hubbard, Penelope Cruz plays Spanish missionary Pilar Estravados (changed from a Swedish missionary in the book), Dame Judi Dench plays Princess Dragomiroff, acclaimed English actress (and future Queen Elizabeth on The Crown) Olivia Colman plays Dragomiroff's maid, Hildegarde Schmidt, Tom Bateman plays director of the train company and Poirot's friend Bouc, Johnny Depp as American businessman Samuel Ratchett, Tony nominee Josh Gad plays Ratchett's secretary Hector MacQueen, English stage legend Sir Derek Jacobi plays Ratchett's valet Masterman, Willem Dafoe plays an Austrian professor, Hardman, Tony winning Hamilton sensation Leslie Odom, Jr. plays Dr. Arbuthnot, Star Wars actress Daisy Ridley plays Arbuthnot's secret lover Mary Debenham, future Jafar in Guy Richtie's Aladdin Marwan Kenzari plays a conductor Pierre Michel, Ukranian ballet dancer Sergei Polunin plays Count Andrenyi, British actress Lucy Boynton plays Countess Andrenyi, and Manuel Garcia-Rulfo plays Biniamino Marquez, who was Italian in the original novel. Talk about a cast.
Murder on the Orient Express was previously adpated for the big screen by Sidney Lumet in 1974, but I will not compare the two adaptations now. This version is not any more a remake of Lumet's version than Branagh's Hamlet was a remake of Laurence Olivier's. I will say that while I love Lumet's film, it has its flaws and is by no means an untouchable masterpiece.
With that out of the way, I will talk about this movie, or rather, I should say, gush about this movie. The Christie fan in me was completely and utterly satisified. I had a smile on my face the entire time I was watching it. Some stuff is added to the plot, like the romance between Odom Jr. and Ridley's characters and a little prologue where Poirot solves a crime in Jerusalem, which I thought were fine additions. The romance did not really add anything, but the prologue set up Poirot's character perfectly for those unfamilar with him. The famous surprise ending (which I will not spoil here for anyone who has not had time in the last 83 years to read the book) remains intact, although understandably simplified somewhat. If I had one criticism, it would be Branagh's direction during the dénouement. I guess he did not have any ideas on how to creatively stage it, so he does it in the most plain way possible, which results in it not being as exciting as it should be. But that is the only part of the film where I felt Branagh's direction was lacking. He features some truly resplendent visuals and some fascinating angles. Back to the ending for a moment, I do wonder what people who do not know the solution to the crime before seeing this movie think of it. To me, it is almost painfully obvious what the reveal will be in the moments leading up to it, but mabye that's because I knew what was coming.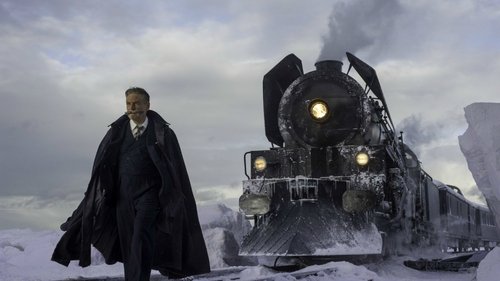 I was confident going into the movie that Branagh would be able to handle the directing, but it was his Poirot that had me worried. Turns out I should never have doubted him because his performance was fantastic and one of my favorite parts of the whole movie. He's no David Suchet, but he is able to convey the pecularities of Poirot effectively, nodding the humor that someone like Peter Ustinov brought to the role, without overemphasizing it. The acting overall is quite strong, although I would not say this is the showcase for brilliant performances that many thought it was going to be. Pfeiffer, for example, was great as always, but if there had only been one more meaty scene for her character at the end to wrap up her arc, she probably would be in the Oscar conversation for Best Supporting Actress. Dench and Jacobi are reliable pros, Cruz gets some funny lines that had me laughing out loud, Dafoe seemed to be having a great time in his role, Gad surprised me with his ability to play it completely straight. Bateman, who prior to this I had only seen in the awful comedy Snatched, also surprised me quite a bit. He was wonderful was Bouc. Boynton and Polunin are closer to camp territory than the rest of the cast, but I suppose that was intential, otherwise their section of the film would be near unbearably depressing.
In terms of Oscar nominations, this is not an Oscar movie, so it will not be showing up in any of the major categories. However, the craftmanship on display here is so incredible, it will definitely be a contender in the tech categories. Pencil Alexandra Byrne into your predicitions for Best Costume Design because, I am telling you right now, she is getting nominated. That's the only category I can say for sure it will be nominated, but Best Production Design is a likely possiblity. Hopefully Haris Zambarloukos' lush cinematography won't be forgotten. Best Original Song might be in the mix as well for a rather haunting lullaby that Michelle Pfeiffer sings over the end credits. As fun as it is to speculate a film's Oscar chances, that is by no means any indication of how good the film is. Fantastic films get overlooked by the Academy every year, and Murder on the Orient Express might be no different.
Even if it's ignored by the Oscars and it's box office results aren't record-breaking, Murder on the Orient Express is going down as a success in my book. It proves that Agatha Christie-style whodunits still work on the big screen. I truly hope this movie leads to more movies with Branagh as Poirot. The final scene teases another well known Chrsite novel, but, if they do make another one, I hope they pick one that has not already been adpated for the big screen. Christie wrote over 30 novels featuring Poirot, so there are plenty to pick from. There are so many actors I would love to see alongside Branagh in a stylish period murder mystery, the possibilities are endless! But until that happens, we have Murder on the Orient Express, another glorious entry into the Christie canon, to dissect, discuss, and debate.
What did you think of Murder on the Orient Express, Christie fans? Which Poirot tale would you like to see be turned into a movie next? Keep the conversation going in the comments below! Thanks for reading!