Three years today I started this blog and to celebrate the anniversary, I decided to compile a list of my all time favorite films. These are not the films I think are the ten best movies ever made, but rather my personal favorites. These are the movies I have seen countless times and never tire of them. In no particular order, they are:
My Fair Lady (1964
)
I wouldn't change a single thing about this movie. There's simply nothing better than watching Rex Harrison and Audrey Hepburn in this adaption of Lerner and Loewe's most famous musical. In a word, perfect.
Million Dollar Baby (2004)
The best movie to win Best Picture at the Oscars so far this century, Million Dollar Baby is a gut-wrenching masterpiece. What starts as a typical boxing movie becomes an unassuming and utterly shattering dissection of the American dream. Also has excellent performances from Hilary Swank, Morgan Freeman, and Clint Eastwood, who also directed.
Hannah and Her Sisters (1986)
Comforting is the word that comes to mind when I think of Woody Allen's Hannah and Her Sisters. With an ensemble that includes Michael Caine, Dianne Wiest, Mia Farrow, Barbara Hershey, and Allen himself, it weaves together multiple stories about a family over the course of a couple of years. The relaxed pace is to thank for the film finding the sweet spot between comedy and drama.
The Misfits (1961)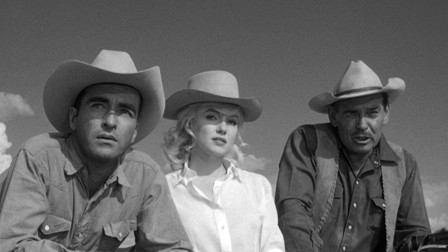 Directed by John Huston, written by Arthur Miller, and starring Clark Gable, Montgomery Clift, and Marilyn Monroe. With pedigree like that, it's a mystery why The Misfits is not better remembered today. It's a sad film about the ways people get used, rejected, and thrown away by the world. Monroe gives perhaps the best performance of her career. Stripped of the gloss of a manufactured star image, she's intensely vulnerable, especially considering Miller was married to Monroe at the time and borrowed extensively from his wife's life when writing the character of Roslyn. The second half of the film is a large-scale sequence depicting the capture of wild horses, and while the metaphor is painfully obvious, it's emotionally compelling and visually arresting.
Lost in Translation (2003)
After I decided to limit this list to one film per director, I had an incredibly hard time choosing which Sofia Coppola film to choose. While I think Somewhere is objectively her best, I went with her most popular film, Lost in Translation, because the mood of that film is like that of no other film I can think of. Lost in Translation, a perplexing tone poem about two American strangers in Tokyo, is the best thing Bill Murray has ever done, and one really the first chance Scarlett Johansson got to lead a film with her soulful, almost melancholy presence.
Camelot (1967)
Everyone has one movie that they are completely blind to its faults, and, for me, that movie is Camelot. Based on Lerner and Loewe's terrific musical, Camelot stars Richard Harris as King Arthur, Vanessa Redgrave as Guenevere, and Franco Nero as Lancelot. People say it's bloated and too long but I disagree. It's lavish and sumptuous and a marvel to look at. Particularly criticized is the forest scene which was obviously filmed on a soundstage, but that forest is so gorgeously draped in snow I don't mind that it's fake. And while Redgrave cannot sing like Julie Andrews (who originated the part on Broadway), her Guenevere is sexy, entrancing, and, ultimately, heartbreaking. Definitely aware of the political association the musical took on after JFK's assassination, Camelot is uniquely of its time, the classic story filtered through a late '60s lens.
The Shop Around the Corner (1940)
I could have just have easily put Nora Ephron's 1998 remake You've Got Mail on this list. The timeless story of professional rivals who don't realize they are each other secret pen pals is classic and livened up by director Ernst Lubitsch's screwball touch. Although it was released the same year as The Philadelphia Story, for which Jimmy Stewart won his only Oscar, I would argue that he gives the better performance here opposite Margaret Sullavan.
The Muppets Take Manhattan (1984)

I don' think The Muppets Take Manhattan is the best, or even the most Muppety Muppet movie, but it is my favorite. Whereas most Muppet movies favor gags over narrative coherence, this one has actual dramatic stakes and songs that feel vital to the story. It's funny and fast paced and the Kermit-Miss Piggy wedding scene is beautiful.
Scream (1996)
The ultimate '90s teen movie, Wes Craven's Scream is succeeds as both horror and comedy. And it features one of the best opening sequences in any movie, the chilling 15 minute sequence where Drew Barrymore is terrorized by the killer over the phone.
Mr. Smith Goes to Washington (1939)
There's a trend over the last few decades for political movies to mine the corruption and cynicism in American politics for dramatic intrigue. But we get enough of that aspect of politics just by reading the newspaper. What is audacious of a movie to do is to show the ways things are and then ask why don't we do something about it? That's exactly what Frank Capra does in Mr. Smith Goes to Washington, a movie where Jimmy Stewart takes on corrupt politicians and the American spirit triumphs.
What are some of your favorite films? Let me know in the comments below!