Personal Shopper: Film Review
There is no actress working today that is quite like Kristen Stewart. In her first collaboration with French director Olivier Assayas, Clouds of Sils Maria, Stewart's subtle and causal approach is contrasted with the mannered and theatrical performance style of an older generation, represented by Juliette Binoche's character. But in their second film together, Personal Shopper, Stewart is the only lead. Her haunting and naturalistic performance carries the entire movie, it's all the audience wants to watch even as she seems to be actively trying to blend into the scene.
The movie itself is a strange and poetic ghost story. It's mysterious, elusive, and, at times, chilling. Stewart plays Maureen Cartwright, a personal shopper for a sheltered celebrity. Maureen is living in Paris while waiting for a sign from her recently deceased twin brother, who was, like her, a medium. The siblings had the same heart condition and had made an arrangement that the first one to die would contact the other. But Maureen appears to have just as much trouble communicating with the living as she does with the dead. Leaving notes for her boss, texting an unknown number, video-chatting with her boyfriend, there is almost always a filter between Maureen and the people she tries communicating with. Her inner feelings, particularly her grief, go largely unspoken.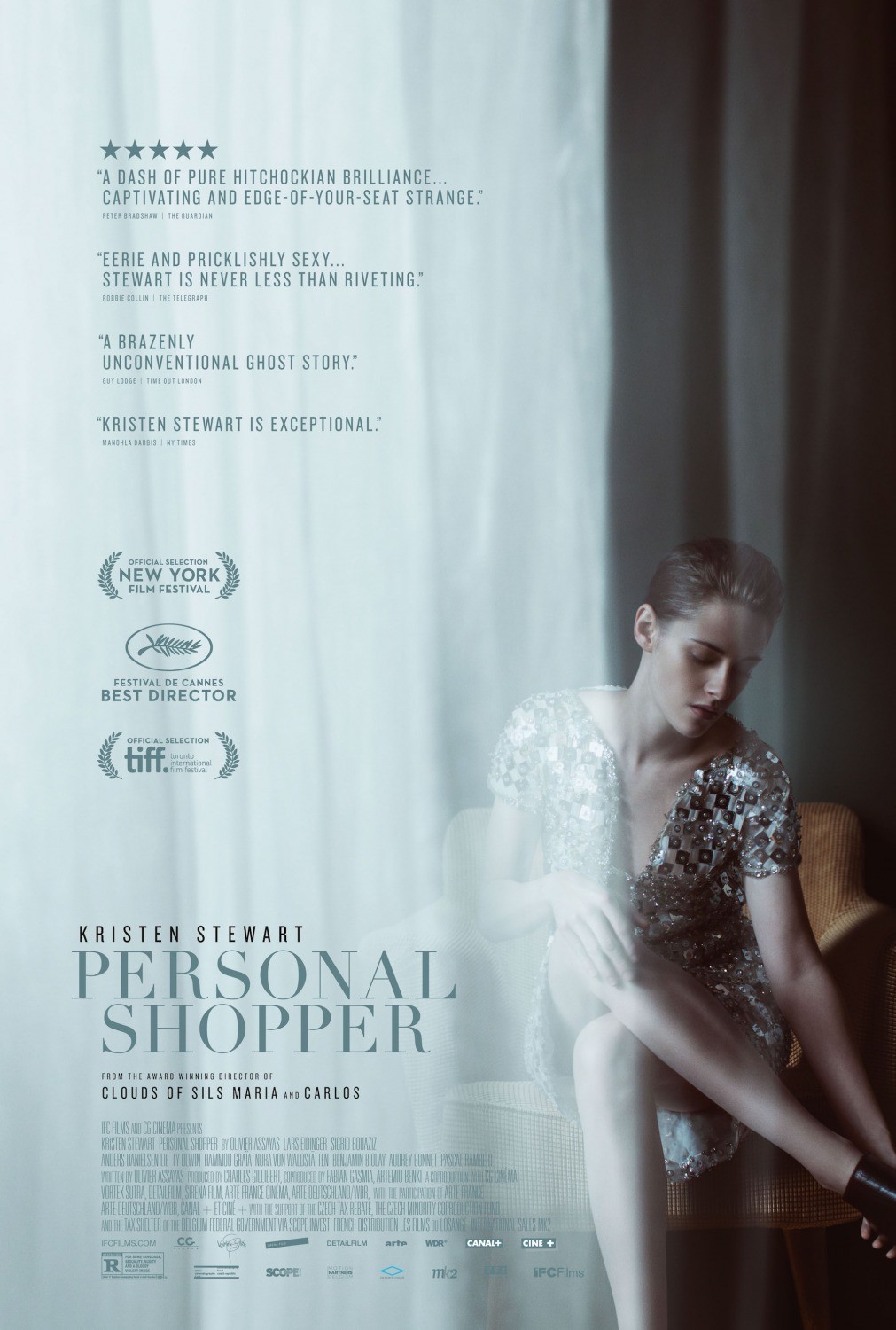 Maureen is caught between worlds. It's no wonder why much of the film occurs while she is in transit from one location to another, whether on the train or riding her motorbike around Paris. She should move on with her life after Lewis' death, but uses the incoming sign as an excuse to linger in the past. She's surrounded by a glamorous world of celebrities and high fashion, but is not apart of it. She's aware of the "presences" as she calls them, but can't always see or communicate with them. It's as if her knowledge of the world beyond prevents her from ever being happy in her existing life.
The film's deliberately relaxed pacing and murky tone will be a turn off to some people. But it would be shame not to witness an exciting young actress finally find the perfect director to utilize her talents. Not to say Stewart has been bad in non-Assayas movies because she's been quietly doing fantastic work for years. But usually she's great because her signature coolness adds a layer that's not on the page. Take, for example, Wood
y Allen's
Cafe Society
from last year. As Vonnie, Stewart is aloof and entrancing. It's no mystery why she is at the center of two love triangles in that film. But Emma Stone could have easily been just as effective as Vonnie. And as great and charming as I think the reigning Best Actress is, there is just no way I can picture her in
Personal Shopper.
Assays has crafted a film that not only uses Stewart's uniqueness, it requires it to exist.
What do you think of Personal Shopper? Leave a comment below!