Film Review: Wonder Woman
It's baffling to me that Wonder Woman is arguably one of the three most famous superheroes in the world and yet it has taken 75 years for her to get a live action feature adaption. In the same span of time, Superman has starred in eight movies and Batman in nine. Whatever the reason for the delay, Wonder Woman has finally made it to the big screen. Wonder Woman is a sharp, funny, and high-energy origin story. Director Patty Jenkins has figured out how to have an optimistic superhero, a symbol of love, exist in a dark and destructive world without a jarring of tones.
The plot revolves around Diana (Gal Gadot), a princess from the all-female island of Themyscira, who has been sculpted from clay by the Queen of the Amazons (Connie Neilson) and brought to life by Zeus. Trained to be a great fighter by her aunt (Robin Wright), Diana's skills are tested when World War I intelligence officer Steve Trevor (Chris Pine) crash lands on Themyscira. Trevor tells Diana all about the war to end all wars, and she convinces him to take into Man's World so she can stop it. Interestingly, her origin story in the comics happens during World War II, not WWI. Setting the film in 1918 is a bit of bizarre choice, but I didn't mind, if only because we've already had so many movies made about WWII.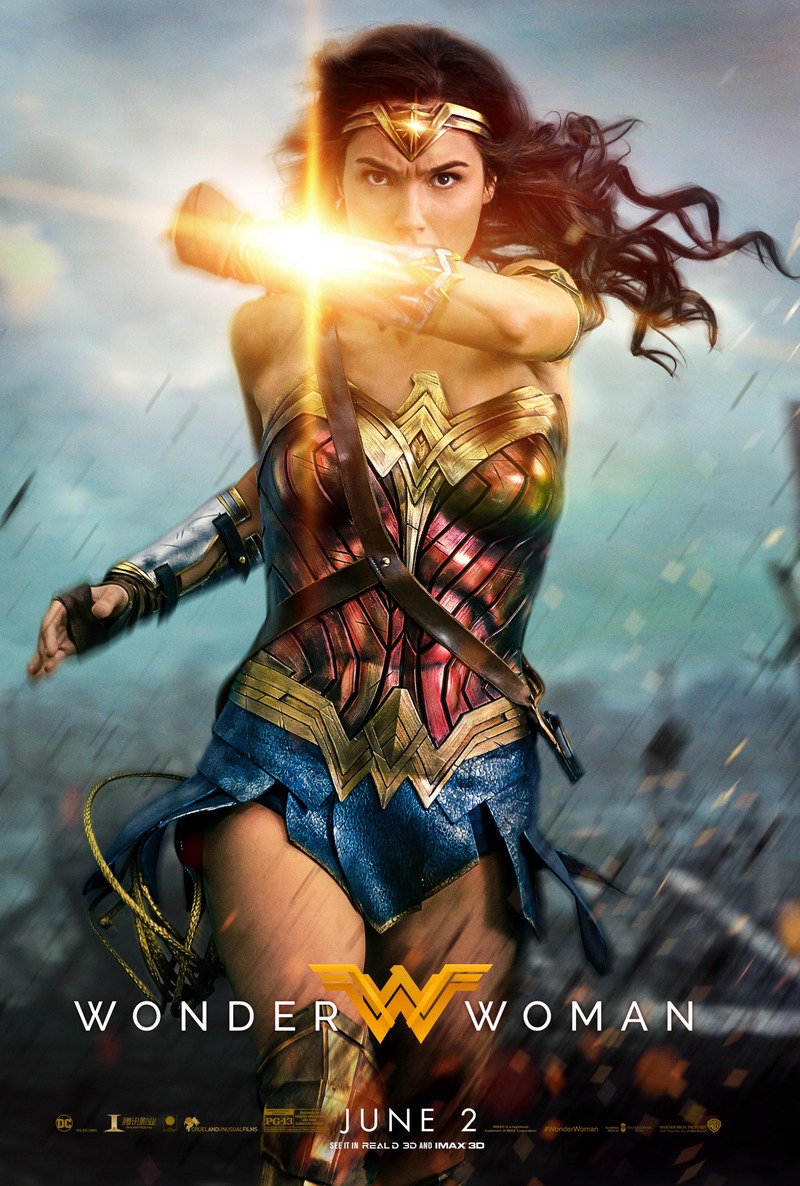 I saw Wonder Woman at a Thursday night showing, but the theater was less than 50% full, odd for the first night was a big superhero movie like this. If that's any indication of its box office prospects, it won't be as huge as other DC films like Suicide Squad or Batman v. Superman. That's a shame because those movies are awful, dour affairs especially when compared to Wonder Woman. Jenkins' film can be quite dark - it is a war film after all - but the darkness is contrasted with, and thus balanced out by moments of brightness and levity. The fish-out-of-water comedy of Diana in 1918 London is my favorite part of the film. That middle section also introduces several supporting characters responsible for much of the film's humor, including Etta Candy (played by the amusing but underused Lucy Davis) and friends of Steve Trevor played by Ewen Bremner, Eugene Brave Rock, and Saïd Taghmaoui.
But the real star of the movie is Gal Gadot. Before donning the bulletproof bracelets, the only performance of Gadot's I had seen was in last year's unfunny action comedy Keeping Up with the Joneses. In that film, she did everything required of her in a severely undercooked part, but it didn't convince me she could lead a film like this. Needless to say, she proved me wrong. Strong and powerful, she's an action star even in scenes where she isn't fighting, and her expressive dark eyes sell the innocence rooted in the character. It's a fresh and endearing take on the iconic character. Her chemistry with Chris Pine is another high point, especially their banter early on in the film.
A lesser film would have truncated the portion that takes place on Themyscira, or worse, shown it only through flashbacks scattered throughout the film. But Allan Heinberg's screenplay wisely takes it time. Nothing in the film feels rushed (a problem with most modern
superhero movies), but that becomes a detriment during the never-ending final battle. The film ends up being 20 minutes too long, and that is most felt during the sluggish third act. The CGI effects also take a turn toward the silly during the climatic showdown between Wonder Woman and Ares, the god of war. Up until that point, the visual style of the film is stunning, but ultimately
succumbs to the messy CGI-heavy look of any generic 2017
blockbuster.

Wonder Woman is a superhero film. One of the better superhero films of the last few years, but a superhero film nonetheless. It reminded me a bit of Captain America: The First Avenger, which remains the best of the Marvel Cinematic Universe. I am more than ready for this trend of superhero flicks to be over, but if we must live with them for at least a few more years, I wish they were all as well-made and entertaining as Wonder Woman.

What did YOU think of Wonder Woman? Let me know in the comments below!