Top Ten Films of 2016
The ten best films of 2016 are...
10. Sully
Clint Eastwood's tense and emotional drama about the 2009 Hudson River plane landing features Tom Hanks' best performance in years. But it's more than just a showcase for one of the country's most beloved actors, it's a complex look at the role of heroes in our society. Read my full review here.


9. Zootopia
2016 was a good year for animated movies. From the sentimentality of Finding Dory, to the anarchic looniness of The Secret Life of Pets, and the breathtaking Moana. But Zootopia stands above the rest for being one of the smartest movies, not just animated, of 2016. The set up is simple: a bunny and a fox team up to solve a mystery, but the filmmakers have created a world so rich in detail, it creates an experience unlike anything else I have seen before. And it boasts a nice message about tolerance in a sleek fun package.
8. Hail, Caesar!
This movie has grown on me since I watched it back in February, partly because two films with similar subjects came out later in the year. These films, Woody Allen's Cafe Society and Warren Beatty's Rules Don't Apply, are so much worse than Hail, Caesar! that it makes you appreciate the Coen's tight vision and focused execution. Whereas Allen's film was aimless and Beatty's an utter mess, this film accomplishes what it sets out to accomplish, the ideas don't get lost in between all the sets and costumes. Read my full review here.
7. Hell or High Water
Director David Mackenzie's modern day Western is a great example of seemingly simple movie with a lot going on under the surface. The story is that two brothers begin robbing banks, but there are deep sociopolitical messages in the script by Taylor Sheridan. Hell or High Water is anchored by three great performances from Chris Pine, Ben Foster, and Jeff Bridges.
6. Deepwater Horizon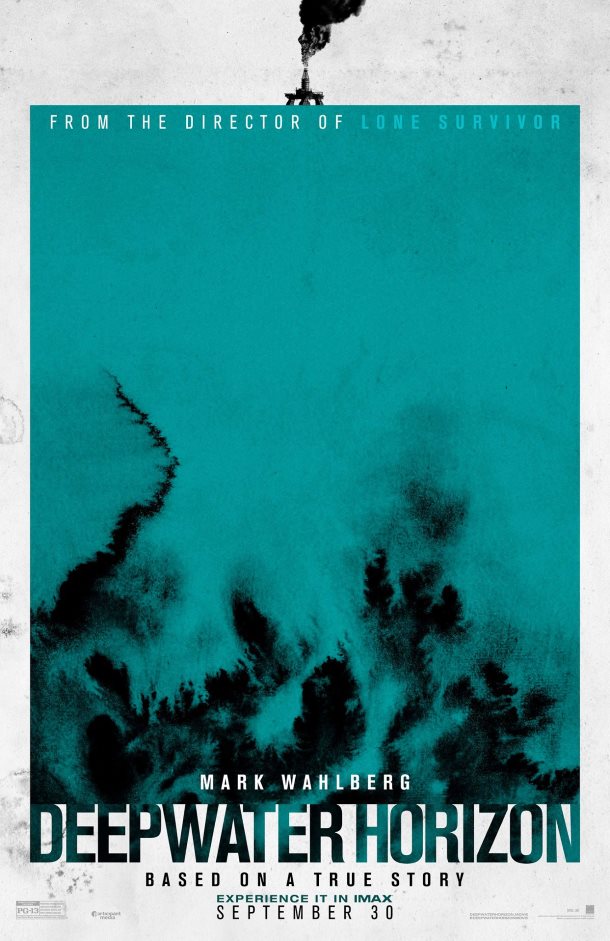 Peter Berg's retelling of the 2010 explosion on the Deepwater Horizon oil rig is the rare action movie with a brain. The explosion sequences are intense and thrilling, all the more so because the audience has been given a reason to care about the people affected. The effects and sound make this one of the most well-crafted films of the year, and it features fine performances from Mark Wahlberg, John Malkovich, Gina Rodriguez, Kate Hudson, and, especially, Kurt Russell.
5. Love and Friendship
Whit Stillman's adaptation of Jane Austen's Lady Susan is perhaps the year's best comedy. It's the funniest, most lively film set in the 18th century that I have ever seen. Kate Beckinsale is terrific in what is no doubt her best role to date as the opportunistic Lady Susan, and Tom Bennett is hilarious as Sir James Martin, delivering one of the year's best supporting performances.
4. Manchester by the Sea
In the tradition of films like Ordinary People and Terms of Endearment, Kenneth Lonergan has created a moving, but deeply sad family saga. More than just a tearjerker, Manchester mimics life in the way the sadness is intercut with moments of levity and even humor. It stars Casey Affleck as Lee Chandler, a man who must return to his hometown after the death of his brother to look after his nephew, played by Lucas Hedges. Lee rarely expresses his emotions and it would be so it easy for Affleck to play him as if he had no emotions at all, but he doesn't. Instead, he infuses every motion, every gesture with an aching sorrow. It's one of the very best performances of the year.
3. Allied
It's a shame that this Brad Pitt-Marion Cotillard thriller will be remembered for bombing at the box office, possibly because it opened so shortly after the implosion of Pitt's marriage to Angelina Jolie. In my review, I referred to it as "a dazzling and sumptuous throwback to an earlier era of storytelling" and the cinematography, costumes, and sound are among the best of the year. Read my full review here.
2. La La Land
Once Damien Chazelle's movie musical La La Land gets going, it reaches heights few other movies can. Emma Stone and Ryan Gosling are both terrific as a pair of dreamers who fall in love in Los Angeles. Jazzy, dreamlike, vivid. Read my full review here.
1. Arrival
I'm usually not the biggest fan of science fiction, but somehow a movie about aliens is my number one movie of the year. Arrival is not only just an incredibly well-made, but also a enigmatic look into humanity and time. More than just about aliens, it has incredibly resonant themes of cross-cultural interactions and the importance of communication. It surpasses so many science fiction films that come and go each year because it not only asks profound questions, it has the audacity to answer them.
Agree with my picks, or have some of your own? Leave a comment below!